6 Sheets + 3 Hanging Hooks
Read 4370 reviews
Ladies Who Lunch
6 Sheets + 3 Hooks
Why it's better than:
Rags

Stink like mildew. Papaya is naturally antibacterial - no smell!

Dish Towels

Make so. much laundry.
With Papaya, just use, rinse & hang to dry!

Paper Towels

Are wasteful & bad for the planet.
Papaya is reusable & compostable!

Sponges

Sit wet in your sink and breed bacteria.
Papaya dries quickly & cleanly on the hook!
Each pack comes with our
Patent-Pending Hole + Hook Solution!
"I've tried other brands, but these are the BEST! The little hook makes such a difference!"
- Jennine L.
1. The Backsplash
Your go-to paper towel! Use for everyday messes like spills, floors and appliances.
2. By Your Counters
Your easy-access paper towel for wiping down counters and cleaning up after meal prep.
3. By The Kitchen Sink
Replace your bacteria-filled sponges.
Just add soap, lather and get scrubbing!
4. Inside the Kitchen Cupboard
Your hideaway option for everyday messes, or for drying wet dishes from the dishwasher.
5. Next to the Highchair
Messy toddlers are no match for Papaya! Use on sticky hands, faces, trays and floors.
6. By Your Vanity
Use this paper towel to soak up water puddles from your vanity. No more wasted tissues!
7. In Your Bathroom
Here for all your sink and shower related cleaning needs. Say goodbye to rags for good.
8. In the Kid's Bathroom
Replace the never-ending rotation
of washcloths, and use for bath time puddles!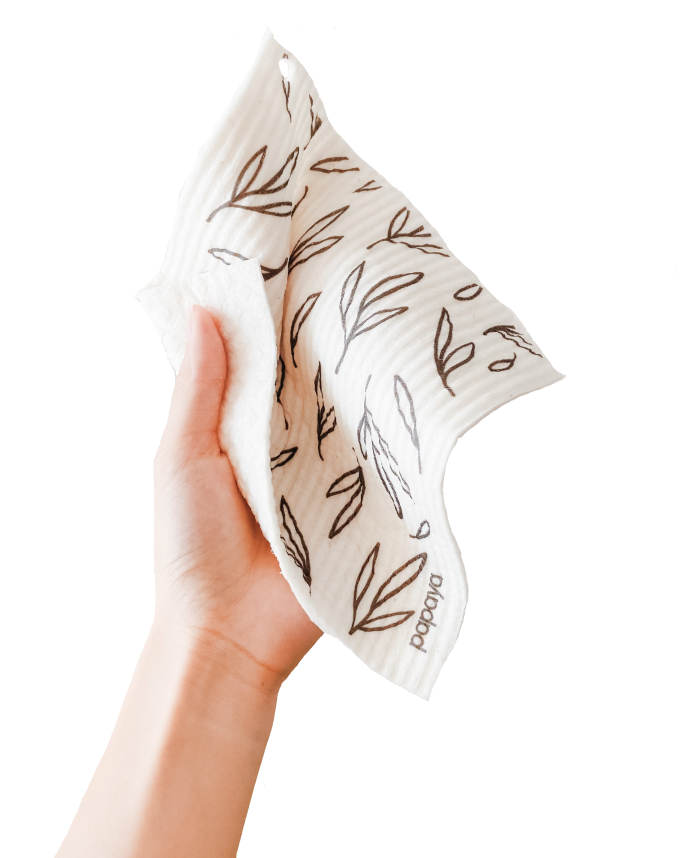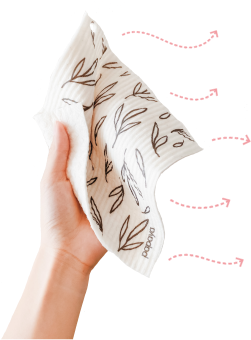 1 sheet replaces 17 rolls!
Just wet to soften
All natural
No mildew smell

100% compostable
The eco-swap you never knew you needed.
What are they made of?
Papaya paper towels are all natural, super quick-drying, and don't go to the landfill!
For everyday use:
1.

Rinse with soap + water (or just water!) & hang to dry
For a deeper clean:
2.

Top rack of your dishwasher.

3.

Machine wash. Air-dry only.
Convenient
These little squares are very absorbent, dry quickly and can be conveniently placed close to where they are needed. I am very happy with my purchase.
Great cloth
Have been using the cloth regularly and it absorbs well, dries out nicely and still no dirty rag smell.
Amazing
Love them all gave them to all my friends you sold me on all the advertising and amazing videos and going all around Toronto close to where I work so have been spreading the Christmas cheer with handing these out and of course keeping some for me to good job Everyone keep up that great work can't wait to see new patterns to love all the ones you have now to always looking for something new to try and bonus these work great Merry Christmas these reusable paper towels sell them selves ps love Mrs clause she's what sold me and dufton being so funny and you all bringing him to head office loved it thanks for the great products ❤️
FAQ
What do they feel like?
Papaya paper towels feel like a rag, towel and sponge had a baby. Stiff when dry, but just run them under water and watch the magic happen. You'll fall in love at first wipe with the soft and luxurious material. They're also ultra absorbent - absorbing 20x their weight in liquid!
Why are they better than a rag or towel?
Did you know bacteria thrives in damp environments? Gross. Think about your kitchen towel, rag and even sink sponges. They sit wet in your sink, or hang outside but take forever to dry, breeding bacteria. Papaya is different. Made of a naturally quick-drying blend of materials, they start to dry within the hour - inhibiting that icky bacteria growth! So they're dry, smelling fresh, and ready to grab the next time you need them. Goodbye mildewy rag smell, hello sanitary cleaning!
What makes them all natural?
Papaya paper towels are made of 30% cotton and 70% cellulose. The materials we use are 100% natural, raw and renewable. Our designs are also printed with non-toxic, water based ink.
How long do they last?
Each Papaya paper towel will last anywhere from 2-9 months depending on where and how often you're using it - replacing on average 17 rolls (or in most cases, far more!) of disposable paper towels. For example, the Papaya paper towel hanging in your kitchen will get tons of great use on messy things like counters, appliances, spills and dishes. That one will likely reach the end of its lifecycle quicker than the Papaya paper towel hanging in your bathroom that you use to wipe up water from the vanity. When its time for a new one, it's 100% compostable, so it won't contribute to the landfill!
What are the dimensions of the paper towels?
Our reusable paper towels measure 6.6" x 7.8" in size.