Strawberry Fields
4 Sheets + 2 Hooks
One-Time Purchase or Subscribe & Save?
Manage or cancel your subscription online at anytime!
We'll only charge you when your order ships.
1. The Backsplash
Your go-to paper towel! Use for everyday messes like spills, floors and appliances.
2. By Your Counters
Your easy-access paper towel for wiping down counters and cleaning up after meal prep.
3. By The Kitchen Sink
Replace your bacteria-filled sponges.
Just add soap, lather and get scrubbing!
4. Inside the Kitchen Cupboard
Your hideaway option for everyday messes, or for drying wet dishes from the dishwasher.
5. Next to the Highchair
Messy toddlers are no match for Papaya! Use on sticky hands, faces, trays and floors.
6. By Your Vanity
Use this paper towel to soak up water puddles from your vanity. No more wasted tissues!
7. In Your Bathroom
Here for all your sink and shower related cleaning needs. Say goodbye to rags for good.
8. In the Kid's Bathroom
Replace the never-ending rotation
of washcloths, and use for bath time puddles!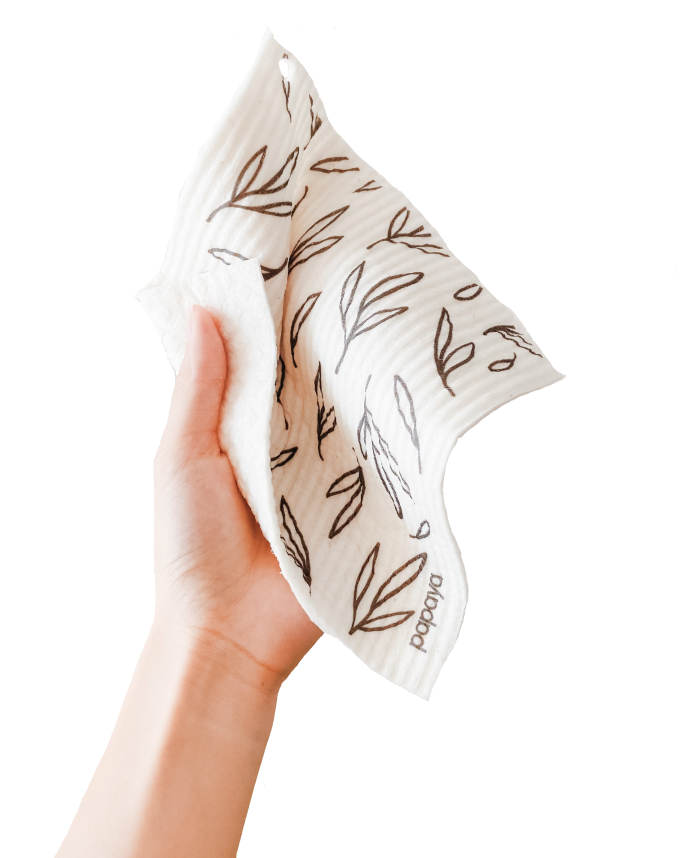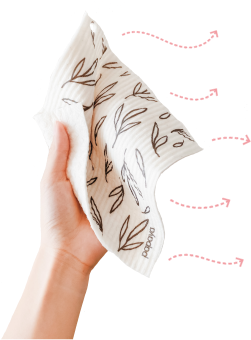 1 sheet
replaces 17 rolls!
Just wet to soften
All natural
No mildew smell

100% compostable
What are they made of?
Papaya paper towels are all natural, super quick-drying, and don't go to the landfill!
For everyday use:
1.

Hand-wash with soap & water. Hang to dry.
For a deeper clean:
2.

Top rack of your dishwasher.

3.

Machine wash. Air-dry only.
Awesome
I totally love my Papaya towels.They clean beautifully and no smelly dish cloths to worry about.They clean my granite counters without any streaking when they dry which is a Bonus👍
How?!
I actually can't believe I'm writing this, but I fell in love with the papaya cloths! How is it possible for something to clean with gas so quickly become essential in my day to day living. Truthfully I don't even touch paper towels anymore and I was using them allll the time. You guys did great! And I can attest - legit no smell.
Amazing!
Love Papaya! I have one in each bathroom and one in the kitchen. Fantastic for counter clean ups, wet dusting, etc. Today my ADHD brain left the water running to fill the mop pail and forgot about it. Papaya absorbed the water faster than I could've with the mop. Just a quick squeeze and it was ready to go back for more. Big win for me! I've already saved soooo many paper towels!
Won't go back to paper towels!
These papaya towels have exceeded expectations. I was skeptical that they wouldn't eventually get the mildew stench but after using it for the last two weeks, there is no smell. Highly recommend!